Michele Donohue
Michele currently resides in Rocky View County (Balzac), Ab, and has lived in the Airdrie area since 1995. Michele grew up in the North, in Whitehorse, Yukon, until her family temporarily relocated during her Senior High years.  They say, "You can take the girl out of the Yukon, but you can't take the Yukon out of the girl", and that's held true for Michele.  Michele also spent a decade in North Vancouver, beautiful B.C., where she finished the balance of her high school and spent the earlier years of her career.  In 1988, Michele accepted a job in Alberta, and has remained ever since.
Michele enjoyed the innocent fun, nature & true wilderness of growing up in the North.  She also reminisces often of friendships, and the scenic ocean in Vancouver, but she is content, comfortable & happy living in the sunny prairies. Michele is married, with a family of two children and the most loveable dog.
Michele is mostly self-taught, but has participated in numerous courses & workshops from various artists since 1997, and continues to participate in learning a variety of art mediums & styles. A fond distant memory & inspiration for Michele from earlier art years, was the very kind & helpful Artist, Ted Harrison, who was the art teacher at the Whitehorse high school during her beginning high school years. Several years later, Michele found her niche in the world of abstract art.
------------
Michele's art consists of mostly acrylic paint, acrylic ink, alcohol ink, coloured pigments, resin, & a variety of other mixed media.  Michele's art is constantly evolving. 
FEATURED ART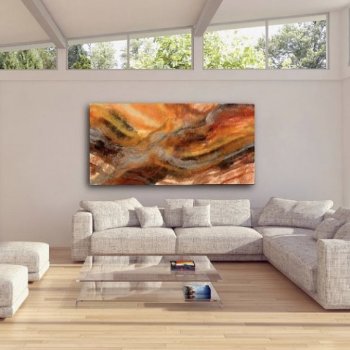 Magnum